I'd like you to meet Marcy, the Etsy queen.  Before becoming a mom of two, she had an Etsy shop selling adorable baby headbands.  While her Etsy shop was around, her work was featured on the Etsy home page several times.

I asked Marcy to be a guest gift guide blogger because she has a beautiful and unique style – a mesh of traditional and quirky.  Marcy loves shopping on Etsy, making homemade gifts, and shopping at thrift stores.  She has wonderful gift ideas for little girls.  Marcy is also intentional with her gifts and resources, so I knew she'd have some great ideas for all of you!
Meet Marcy:
I buy gifts for: My husband, our siblings, our parents and grandparents, our two daughters (three years old and one year old), and 13 nieces and nephews (newborn through 13 years old). If time and budget allow, I also love whipping up something special and homemade for our close friends.
My gift-buying philosophy is: If I see an item that screams someone's name, I always grab it right away – even if Christmas is months away. But with such a long list, and two little "helpers" tagging along, I'm usually scrambling to wrap up my shopping/crafting/creating the week before the big day.
My favorite part of Christmas: I adore family traditions and find such joy in participating in both the meaningful ones and the silly ones each year. Since our family is so young we're having a blast beginning new traditions with our girls as they grow. On this year's to-do list: a homemade advent calendar with corresponding activities! Oh – and this ornament activity that celebrates (and teaches the kids) the names of Christ!
My favorite Christmas movie: It's a tie between National Lampoon's Christmas Vacation and It's a Wonderful Life – both must-watch flicks on my side of the family each year.
Penguin's Hardcover Classics Collection

Every title in this swoon-worthy set of books is gorgeous.  The beautiful fabric covers designed by Coralie Bickford-Smith transform a good read into a piece of art!  A must have for the book worms AND designers on your list!  While you're not likely to find these floating around in your local thrift store, you can save a bit on Amazon. I've gotten them for $8 below the Penguin price there.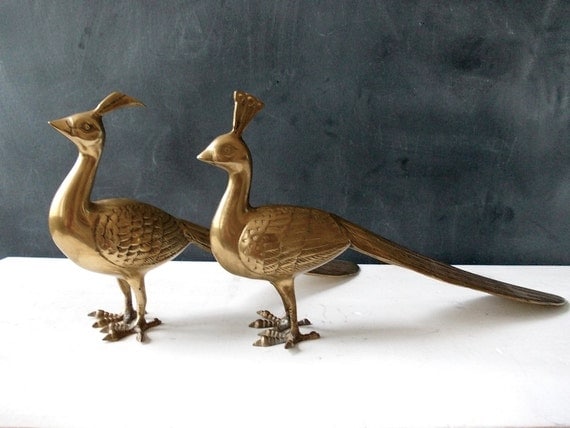 Brass Animals
I think mixing metals is one of the keys to great design, and the brass animal trend is a great way to bring a gold-tone (and a touch of whimsy!) into a home.  If you are lucky enough to run across one with personal significance (a favorite animal, former school mascot, something from the family crest, etc.), it'll make this great gift even better.  And it doesn't really HAVE to be an animal.  But those are my favorites!  The prices on Etsy aren't bad, but you can save a pretty penny by popping into your nearest thrift store and scouring the shelves for one of these babies.  I recently scooped up a cute little duck and a good sized camel at my local Goodwill for about $3 each.
Art Prints – Selecting art for someone else can be pretty tricky, so I'd save this one for those closest to you.   On top of Etsy, you can find great deals and lots of sizing options at www.Society6.com, www.20×200.com, www.art.com and other similar sites.  I recently picked up this 8×10 print of an abstract batman from the Polygon Heroes collection as a gift for my husband.  His favorite superhero now lives on our floor to ceiling gallery wall, mixed right in with photos of our children, some of their art, and some thrifted prints and paintings.  It makes him smile, and that makes me happy.
Cute Hand or Dish Towels – Home décor gifts can be challenging to give, since it's difficult to pin down exactly what someone else will like enough to display in their home.  I think hand/dish towels are a nice exception, since they're a low commitment décor piece.  Most folks change these towels out pretty often for washing, so having a "special" set or two in the rotation is a welcome treat, even if they don't turn out to be their everyday style.   I have (and love!) these from West Elm.  Anthropologie tends to have a fun selection, too.  And Etsy never runs dry!  You can search on Etsy for vintage, embroidered, and possibly my favorite – hand blocked options.
If you're not sold on this, I would place coasters, salt & pepper shakers and magnets in the "low commitment home décor" category as well. Anthropologie has some awesome petrified wood options that I've got my eye on right now.
Photo from Bower Power Blog.
Potted Herbs or Succulents – Try your farmer's market first, and if you can't get them there, a local nursery or even a hardware store like Lowe's or Home Depot should have these.  If you opt for herbs, include a favorite recipe.  A cute little pot, homemade marker (these are cute!) and packet of seeds make a fun alternative.  I don't think you'll be surprised when I say that Etsy has a great selection, too.
Accidental Okie says – Bower Power Blog has a great tutorial on making a potted succulent display!
Wooden Toys – Plan Toys and Melissa & Doug are a couple of good retail options, and Etsy is a great source for truly homemade wooden toys that cater to a variety of ages (Fun options here, here, here and here). If it's not addressed in the product listing, I recommend contacting the seller to confirm that the paint used to adorn the toys is safe for babies.  They aren't wooden, but the felt food baskets from Ikea are adorable, and an ABSOLUTE steal as well.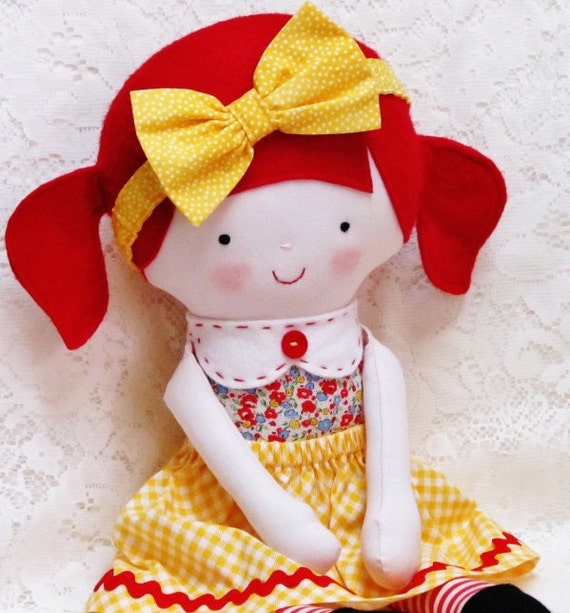 Custom Dolls – A set of very basic sewing skills should be enough to get you through one of these adorable doll patterns (if not, there's a good selection ready-made on Etsy).   I love this pattern, and this one, but it would be fairly simple to draft your own.  The best part?  Customizing each doll to match the child receiving it.  My daughters will likely find these in their stockings this year!
Photo from A Beautiful Mess Blog.
Personalized Dishes – White dollar store dish + porcelain marker = custom gift!  I think mugs or dessert plates are my favorite options here, but a serving platter could be nice too.  Or maybe even creamer and sugar pots.  Hand lettering is all the rage right now, so if that's a skill you possess, put it to work here!  Or put your kids to work making keepsakes for grandparents, aunts, uncles and teachers. Inspiration, Tutorial, Tutorial, Markers.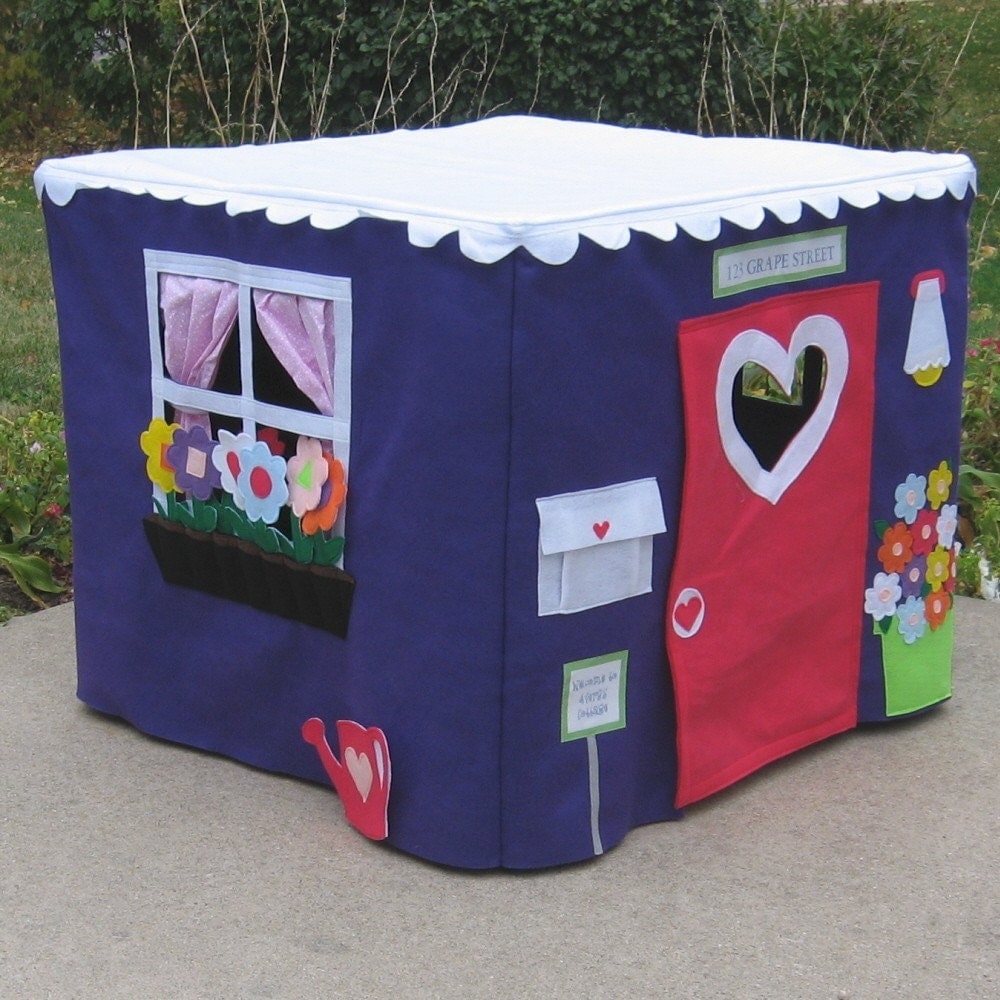 Card Table Play House – You can find these on Etsy, but the prices are a bit steep, so let those products serve as your DIY inspiration!  There are lots of patterns available for these if you're not into winging it, too, and you're just sewing straight lines, which keeps it pretty easy!
Cute Colanders – Mini colanders are perfect for rinsing grapes and berries, or draining canned veggies (like beans, which need to be well rinsed to get all the starchy sauce off.  Gross.) without filling the entire dishwasher up with the bad boy you usually use for large pots of pasta.  I have one mini, and it's constantly in use.  It's easy to store,  and I'll definitely be collecting more!  Mine is from Anthropologie (a steal for under $10 last year!), but a quick search on Etsy for "colander" or "berry bowl" will find you a slew of options – from vintage enameled to handmade ceramic and stoneware.
Accidental Okie says: The berry bowl pictured (from Williams-Sonoma) is so cute and only $8.