This post is part of my 2012 Gift Giving Series, running from November to part of December.

Sarah: The Best Friend.  That's not a descriptive title compared to The Fashionista, The Etsy Queen, The Hipster.  But in a way, I hope it's the most descriptive of all the titles in the gift-giving series because I hope you all have a best friend like I have in Sarah.  Sarah is someone who knows my secrets and fears and dreams.  She always remembers my birthday and anniversary, even though remembering things like that is not my greatest strength.  We get in busy ruts and don't talk for two weeks, and pick up right where we left off.  We trek the eight-hour drive to see each other every year and stay up talking until the wee hours of the morning.  In short, I hope you all have a Sarah.
Sarah has great taste – I'd call it rustic chic.  She's a true Texas girl and now she has her own little Texas girl.  I hope you enjoy her gift ideas!

I buy gifts for: My husband, our 20-month-old daughter, our parents, siblings (late 20s), grandparents, and whatever names we draw in our extended families.  If time and budget allow, I like to do a little something for close friends.
My gift-buying philosophy is:  Ideally, I start thinking about "the perfect gift" ideas around September, and just buy them as time and funds allow.  (If a brilliant idea arises beforehand, I write it on a post-it and stick it on the October or November calendar page.)  Over the last couple years, I've really attempted to shop earlier so that our December budget is relieved a bit.  Most of the people listed above receive a personal gift, but some extended family members are given a family or couple gift.  When deciding what to buy for each person (or family), I try to focus on something intentional that he/she would truly love and would remind him/her of my love for them.  Sometimes the gift is practical, sometimes it isn't at all.  A general theme I do seem to follow, though, is that of personalization.  I love initials, special pictures, and monograms.   As an amateur photographer, it's not uncommon for many gifts to include a pic that marks a special memory.  And, if possible, I try to support a small business.
My favorite part of Christmas:  My sentimental sappiness only climbs during the holidays, so I adore traditions- big and small.  With a young child, we are thinking a lot about what traditions we want to establish in our little family, since she is at the perfect age to recognize and remember what we do.  I pray that all the fun things about the holidays never overshadow the joy found in Jesus' birth.  My hubby gave me the Willow Tree Nativity our second Christmas together, so that is the focal point of our décor.  I also love Christmas music, white twinkle lights (re: You've Got Mail), ornaments from each year representing a story/memory,  taking a ridiculous number of pictures, receiving Christmas cards, and special drinks and foods that remind me of every Christmas before.
My favorite Christmas movie: I grew up watching White Christmas and It's a Wonderful Life, and still make a point to watch them.  For modern flicks, The Holiday has become a fave as well.
Sarah's gift ideas.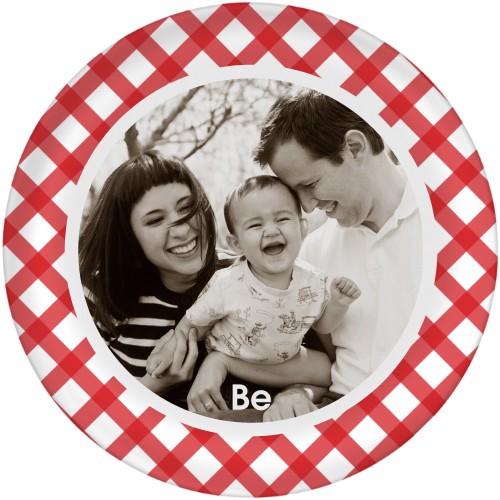 I just love all the fun gifts we can make with our own pictures.  Shutterfly is expanding beyond the traditional prints and books, to include personalized plates for your table.  Embrace a fun, whimsical design for kids or aim for classic with a single image of a beautiful bloom.
Gift Boxes from Penzey's Spices
If you're buying for a culinary genius or just someone who appreciates high-quality ingredients, check out the fabulous line of spices and seasoning from Penzey's Spices.  They offer several themed gift boxes (cooking, grilling, etc) at a great value and in attractive boxes.  My husband and I especially appreciate that they list suggested uses on the spice jars.
Honorary Donation
Do you have a loved one who might literally have everything? If his home is busting at the seams or if giving beyond herself resonates with her heart, consider giving a donation to a worthy organization in your loved one's honor.  If he/she cares deeply about children or families, give to Focus on the Family.  Or, maybe he would be thrilled to know that instead of receiving another tie, money will be buying an essential heifer or goat for a family in a third-world country.
To stay local, adopt a family in need or a child from Angel Tree, a ministry that allows children of incarcerated men and women to have a Christmas gift, and take your loved one with you to purchase the requested items.  This can be a particularly valuable experience for children.  Let's remember the groups doing significant work domestically and around the world during this season of giving.  (Be sure to use Charity Navigator to check an organization's credibility/trustworthiness if you have not contributed to them before).
Children's Books from "I See Me"
This innovative company has created a beautiful line of unique, personalized books for babies and children.  With vivid illustrations, I See Me teaches children how to spell their names, hosts a royal princess birthday party, and celebrates the fun of Christmas with your child in the story.  We ordered My Very Own Name for our daughter and she consistently chooses it to read.  Just recently, I ordered God Loves You!  and I am excited to give it to her for Christmas.  Be sure to sign up for email updates when you visit their website, and they'll send you an immediate coupon code.
Even you're just a tiny bit curious, you must check out these beautiful works of art by Tim Arnold!  Mr. Arnold hand-cuts detailed silhouettes from a picture starting at just $40.  These are not just for the log cabins in Little House on the Prairie.  Visit The Nester to see how she incorporates her children's silhouettes into an awesome focal wall.   I'm excited to order one of these for our daughter now that she has enough hair.
Pretty Things to Monogram
A monogrammed necklace or picture frame is the perfect go-to gift.  Traditional silver frames from Pottery Barn make a classic statement in a home, especially with a special picture to personalize it.
I learned about Vintage Pearl after inquiring about a friend's necklace.  They create beautiful jewelry that can be personalized with initials, children's names, or birthstones.  I'm not a jewelry fanatic, but I knew I had to have their name charm after my daughter was born.  I wear it almost daily!
Subscriptions
Magazines, Sirius XM, and Spotify keep giving all year-round.  If your loved one is a music lover or enjoys an entertaining read, a gift-subscription could provide the perfect escape during a busy day.  From cooking to sports, there's a publication for nearly everyone's favorite hobby or interest. (Consider if the recipient would prefer an e-subscription if he/she has a tablet of some sort.)
I love a good story, nostalgia, and sentimental things.  Surprised?  I didn't think so.  Rootin' Ridge Toymakers ties together these 3 elements beautifully with their classic wooden toys.  The husband & wife team have been creating children's treasures for almost 40 years (!) in their adorable woodshop.  Strolling through their quaint-feeling shopping center, it's easy to forget you're in a busy part of Austin.  Anyways, the toys…  They make a variety of safe, high-quality items, but I love the wooden name puzzles.  What a great way for your little loved one to practice fine motor skills while learning to spell his/her name!  Rootin' Ridge does accept online orders, but hurry if you want it for the holidays.
An Experience
I'm thankful that my parents emphasized quality time with family when I was growing up, and Christmas seems like the perfect time to be intentional about it.   As I've watched mine and my husband's grandparents age, I have been impressed with the importance of spending time with them.  Many older folks aren't able to enjoy the same activities and mobility of their past, and they would love the chance to see you and get out of the house, nursing home, etc.  If this sounds familiar, consider taking your loved one (young or old) on a picnic on a pretty day, shopping in a decorated mall, on a tour through your city's museum, to a community play, or out to eat and looking at Christmas lights in a fancy neighborhood.  A quick Google search can help you find creative things in your town.  Know that the time spent will be worth gold to them.
The Family Gift
So I mentioned a family gift earlier, so let me offer a few examples.
The Movie Bucket:  Grab a cute bucket and stuff it with everything needed for a fun family movie night.  Movie-style candy, popcorn, a 2L of coke, and an age-appropriate movie are the essentials.
The Bleacher Family:  Collect fun things for the family who spends lots of time on the bleachers watching someone's game (Snacks, sunscreen, ball cap for the team, pom-pom, drinks, memory card for the camera, The Sandlot movie).
The same idea could be applied for a family who looks forward to the summer beach vacations, people with a road-trip planned, or the die-hard college football fans.  All you need is a sturdy container to start and some imagination!
Registries
Don't forget about unfinished registries for the nuptials or parents-to-be!
Merry Christmas & happy shopping!
You can read all the gift giving guides here!