This post is part of my 2012 Gift Giving Series, running from November to part of December.  I've asked people from all walks of life, tastes, styles and budgets to recommend ten unique gift ideas.

Remember that time I said my friends are cooler than me?  Well, here's some more proof.  Meet Rebecca.  We went to Baylor together, and to the same church and were in the same sorority.  We also formed a Facebook group called Patriotic Ex-Patriots United.  Only she actually became an expat.  I became an Oklahoman, which is similar in the eyes of many Texans.

Rebecca knew she wanted to be a professor of medieval English, but in our last weeks at Baylor, rejection letter after rejection letter came from every graduate school she applied to, and Rebecca saw her dreams slipping away.  But then when all hope seemed lost, she received a hand-delivered letter from the postman.  From Oxford.  The number one school in the world to study medieval English.
So, Rebecca went to Oxford where she got her Ph.D. and met her husband, who, among other things, is taller than her.  This is a big deal since Rebecca is nearly six feet tall.
Now they live in Australia where, ahem, Dr. Rebecca is doing post-doctoral research on suicide in the middle ages and how the medieval writings about it can be integrated into modern suicide prevention material.  You can read an article she wrote about it here.
I hope you enjoy meeting Rebecca!
I buy gifts for:  husband, parents, brother and sister, parents- and siblings-in-law, my bestie in Texas, old college roommates, a few co-workers (and if celebrating Christmas with extended family in America: a small something for grandparents, aunts and uncles, and cousins)
My gift buying philosophy:  My gifts tend to fall into two categories: exotic or (and?!) delicious.  I love watching people experience new places and things, so I'm on the lookout all year for interesting local items I can pick up when I'm traveling (overseas or to a neighboring state/city) and save to give as Christmas gifts.  Whether it's ornamental or edible, it's fun to show a loved one that you thought of them while traveling, and they get to keep a little piece of some foreign locale for themselves.
I also enjoy stocking loved ones' reading lists with new books I think they'll enjoy—I keep my eyes on the recent releases and read book reviews to take note of who might like what.  And I adore making and gifting homemade treats in clever packages.  I like to give baked goods, homemade truffles, or mixes for quickbreads, muffins, or soups.  It's all in the presentation, too!  A well-presented gift, even if it's a small, inexpensive item, just seems a little more personal and meaningful when it's beautifully packaged.
My favorite part of Christmas:  After spending the holidays in many different places and cultures, I know without a doubt my favorite part of Christmas is just being with family.  I am blessed with a close, loving immediate family, a big extended family on my mom's and dad's sides, and a fantastic set of in-laws.  Being able to spend a few days of quality time with them—preparing meals, baking treats, watching silly movies, sipping wine and chatting late into the evening—it's the best, and something I treasure even more since spending the last seven years living oceans away from relatives.
My favorite Christmas movie:  Home Alone… or Miracle on 34th Street… or Love Actually… and my (mostly male) cousins and I have a tradition of watching cheesy action movies together on Christmas, think Rambo or something starring Bruce Willis.
Reb's Gift Ideas
Books!
You can never have too many, and it's a great way to exercise your deep knowledge of your loved ones and their interests.  Scour the NYT book review section http://www.nytimes.com/pages/books/index.html, the London Review of Books http://www.lrb.co.uk/, New Yorker http://www.newyorker.com/books?intcid=books, and the New York Review of Books http://www.nybooks.com/.  Something is bound to jump out at you that's just right for one of your friends or relatives.  Books I would pass on include Peter Carey, The Chemistry of Tears, and of course Kathryn Stokett, The Help.  You might also consider gifting a luxury edition for an extra-special present.  Look at the shelves of hardbound classics in bookstores and choose a book (judging by content AND cover!) that will suit your giftee.  Make sure to personalize it by writing a message in the front flyleaf.
Cookbooks
(Different category than the last by my reckoning.)  I have to do an Aussie plug here and recommend some of my favorite Antipodean cookbooks.  Foodie/photography blogger Katie Quinn Davies has just released her first, and it's full of beautiful pictures and funky write-ups of her delicious, down-home cooking.  Her Irish-Australian recipes are perfectly suited to a family meal or a dinner party for a crowd.
Bill Granger was Australia's first masterchef winner, and his restaurants serve simple, beautifully-prepared food that showcases the best of what's in season.  I own 'The Best of Bill' and have enjoyed experimenting with his 'modern Australian' cooking.  He specializes in fresh produce and seafood—with a Southeast Asian flair—and that Aussie favorite: brunch. His newest cookbook, 'Easy', looks fab, and would be ideal for the busy chef, as each chapter focuses on staple ingredients (a rotisserie chicken, a can of beans, fillet of fish) and turns them into healthy and flavorful dishes.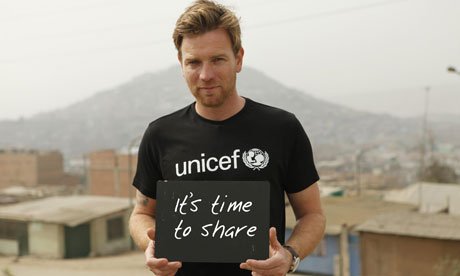 Personalized Charity Gifts
It's easy to arrange a charity donation on behalf of a friend or loved one through organizations such as Unicef, Oxfam, and the Red Cross.  These gifts are a thoughtful way to express holiday cheer while reaching out to the larger global community.
Last year, my sister-in-law arranged charity donations for each member of our family, creatively personalizing each donation so that it resonated with her intended giftee.  It was one of the sweetest gestures.  I love to cook, so she made a donation in my name to a charity that would provide food for a family for some months.  My brother-in-law is training to be a teacher, so her donation in his name went towards a charity that would provide children's education.  My Aussie husband enjoys a cold one : )  For him, she wrote the funniest card explaining that she couldn't find a charity that provided beer, so she made his charity donation to an organization that provided clean drinking water.
This is just as cheesy as it sounds, but there is likely a person in your life (little brother? Husband? Dad?) for whom a custom bobblehead is the ideal gift.  My brother just received a look-alike bobblehead of himself from his wife as a birthday gift, and he's already proudly taken it to display on his teacher's desk at his high school.  The resemblance is uncanny.
Houseplants
My mother-in-law is a botanist and gardener extraordinaire.  She is slowly teaching me how not to kill every green thing my thumbs come into contact with. Her faith in my gardening abilities has given me a new enthusiasm for plants.  Giving a pot of flowers for the patio, trio of herbs for the kitchen widowsill, or a little terrarium is a gift that will last long after Christmas (hopefully!) and will brighten the home of your giftee.  Better Homes & Gardens has a handy houseplant picking guide and a make your own terrarium tutorial.
Homemade Treats
This is the kind of gift I give to co-workers or extended family if we're all gathered together for Christmas.  Food is always welcome, and baked good mixes are even better because they can be saved for after the holiday binge period.  Creative packaging makes these gifts even more special.  Pick up scraps of fabric, paper, ribbons, twine, and beads throughout the year so you're ready to wrap up your homemade treats.
Last year I made this chocolate chip oatmeal bread mix for our cousins, stacking the ingredients in glass jars decorated with fabric and ribbon, with baking instructions attached. They all replied a few weeks or months later saying that the bread was delicious and that they appreciated being able to easily throw something together for a lazy weekend breakfast.
You can also arrange your favorite cookies in pretty tins (molasses cookies are perfect for the holidays: the Pioneer Woman's recipe is the same delicious one my mom makes, and I'll be posting my own vegan version on my blog soon, or make homemade truffles and give with a bottle of wine).
Fairtrade Homeware and Clothing
Most shopping malls in Australia have a fairtrade store selling beautifully crafted homeware, jewelry, and clothing.  This is often my first stop for little, meaningful gifts—a beaded necklace from India, a scarf from South America, or a carved bowl from Africa.  These products are usually made from recycled or sustainable materials, and they empower people to earn salaries that will support themselves and their families.  This beautiful dove stamped with 'peace' in English and Khmer is made in Cambodia out of recycled bombshell fragments.  If you can't find a fairtrade store near you, check out the FairTradeFederation gift guide.
An Event
Movie, play at the local theatre, ballet, or concert—event gifts are fun!  Whether you give a pair of tickets so two lovebirds can have a date night on you, or give a friend one ticket and keep the other so you can attend together, this gift creates a space for quality time as well as a show your giftee will enjoy.  Look at the event guides for some of the big performance spaces in your city or at your city's 'what's on' calendar.  The Sydney Opera House even has a selection of event suggestions for Christmas gifts.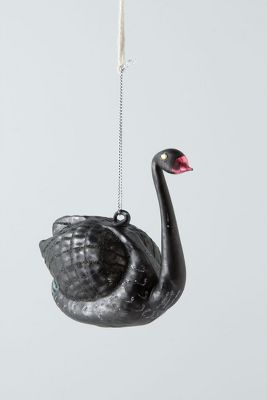 Ornaments
Maybe this one is cliché, but I love Christmas ornaments.  I have a treasured collection—some from my grandmothers who are now gone, a few of the macaroni and glitter ones I made as a kid that my mom gifted me with some of her own, nutcrackers and ballerinas galore from when I used to perform in The Nutcracker years ago, and now six years' worth of ornaments from my three college roommates.  At graduation we decided that we would forgo purchasing birthday and Christmas presents for each other, saving the money instead to meet up wherever we might be in the world.  But we have a tradition of sending around four of the same ornaments so that our Christmas trees will look similar when we're old!  I usually pick up a set of ornaments from a fun location when I travel—this year it's painted wooden animals from Cape Town, South Africa.  Anthropologie has some beautiful vintage-style ornaments this year, loving the Aussie-looking black swan and fluffy pink coupe de gala kiwi.
Have fun choosing gifts for your friends and family, and I hope you've received a healthy dose of inspiration from Accidental Okie!  Blessings to you and yours for the holidays, whether they're spent in cold or hot climes : )
Xx Reb (SouthernSpoonBelle @ www.southern-spoon.blogspot.com)