Ladies, it's the week you've all been waiting for in the Accidental Okie Gift Giving Series.  Yes, it's testosterone week.  It's the week when the veil is lifted and we get to learn from guys what they really want for Christmas.  Can I get a hallelujah!
Let me give it to you straight: Matt is probably cooler than you.  He most certainly is cooler than me.  He and his awesome wife Charissa are downtown dwelling folks who embrace city life and all the hipness that comes along with it.
Ladies, Matt has insightful gift ideas for your man or brother or son.  Men, he also has suggestions that will make you look like a knight in shining armor (or skinny jeans and a scarf, if you're a hipster) to the lady in your life.
Take it away Matt.
I buy gifts for:
My wife, the sibling-in-law not-so-dirty-santa gift exchange (which is usually a knife or a flashlight), and the Fry family member whose name I draw. I also provide input on gifts for our nieces, aunts and uncles, and probably others that I'm forgetting.
My gift-buying philosophy is:
Here's the thing, It's not that I dislike giving gifts, it's just that I over-think it. I put too much pressure on myself. I always think I have to get some unimaginably perfect gift, which leads to putting it off until the last possible moment, which results in a crappy, last-minute gift, which is not fun for anyone and only reinforces my neurosis. So I tend to just buy other people things that I think are cool and include the tags and receipt. I basically give out really big, oddly-shaped gift cards.
My favorite part of Christmas:
To be honest… I'm not a huge fan of Christmas. The holidays were typically a stressful time for my family. We didn't have a lot of money, which tends to make buying things much less enjoyable. One year when I was 9 or 10, my mom tried to get creative and decided we were having a "Symbolic Christmas," where we're all supposed to hand-make gifts that represent how we felt about each other. So obviously my dad and brother and I went to the mall on Christmas Eve, where we decided to pool our money and buy Mom a new Crock-Pot. We all laugh about it now, but when she opened it, she burst into tears. Apparently no woman wants to be symbolically represented by a 4-quart Crock-Pot (this is also true for vacuum cleaners, dishwashers, and washing machines). I also worked at Hobby Lobby for several years in high school, where I was waist deep in glittery ornaments, festive holiday potpourri, and non-stop Christmas Muzak  from August to February every year. So that might be the real source of my Grinchy feelings about The Most Wonderful Time Of The Year.
My favorite Christmas movie:
Die Hard
Matt's Gift Ideas
Gerber Evo Jr. Serrated Knife
I own a lot of knives. Don't ask why; that's not important. What is important is that, out of the many, many knives I own, I keep this knife on my person at all times. Just don't take it to the airport. They don't like knives much there. Especially if you have one in your pocket and three more in your backpack.
Monthly Subscription to Crazy Socks from Foot Cardigan
A delightfully unusual pair of socks, not of your choosing, sent every month! Who could POSSIBLY resist?? Okay, full disclosure: a few friends and I started Foot Cardigan back in June. But just because this is blatant self-promotion doesn't mean it's not an awesome gift!
Google Nexus 7 Tablet
There's this newish trend towards smallish 7-inch tablets (eg: Kindle Fire, Nook Color, iPad Mini) but the Nexus 7 is the best of them and at $199 it costs less than most of them. I won't bore you with the details, but it's got the best screen, the fastest speeds, and the Android Jelly Bean operating system makes it (in my opinion) the most enjoyable to use. It does everything a Kindle or Nook can do, and much more. And it costs almost half the price of an iPad Mini. For more technical details, go here.
Klean Kanteen 16oz Insulated Bottle
Between the two of us, my wife and I have five of these. My only complaint is that the klean kanteen keeps my single origin direct trade organic yirgacheffe french press too hot to drink for almost the entire drive to work because this thing insulates so well. UGH. Oh, and don't forget the cafe cap.
Casio Men's MQ24-7E Classic Analog Watch
I love this watch. It's classic and nearly indestructible, but who cares if it does get destroyed because it only costs $10. Heck, buy two.
Elsa Peretti Diamonds by the Yard pendant
For women, you can't go wrong with a diamond-anything that comes in the iconic blue box from Tiffany's. And for $200, it won't break the bank either. And if you really want to make all your buddies look bad, Charissa says to mention there is also a matching ring for $395.
The Gift of Warmth
I don't know if you're familiar with the Five Love Languages, but I think Gary Chapman left out the most important one (for my wife, anyway): the gift of not being cold. Every Christmas and birthday, I include some kind of warmth-inducing item. Here are a few of my favorites:
Cookie Mix + Mini Skillet
Charissa has been working on gifts for co-workers, admins, aunts, and other female-type people. A good chance to be all pinteresty and do-it-yourself-y. And if you've never had a cookie pizza made in a mini-skillet, you've never lived.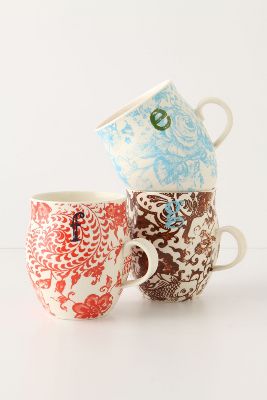 Homegrown Monogram Mug from Anthropologie + Spiced Chai
The mug by itself is a great gift for bosses, co-workers, and in-laws. Just $8 and it usually goes on sale a few days before Christmas (but they sell it year round). Throw in a pack or two of Big Train Chai and you've got yourself a top-tier gift idea. It really is the best chai you'll ever taste. Charissa has a bi-monthly subscription from Amazon, so we get a two-pack of two-pound cans every other month.
A PUPPY!!!!
Who wouldn't want a puppy??
Proof 1:

Proof 2:

Here is our puppy being adorbs and generally making the world a better place through her cuteness and happy tail-wagging: