Every blogger in this series was asked to answer a few questions – the basic demographics of the people they buy gifts for, their gift buying philosophy, their favorite part of Christmas, and their favorite Christmas movie. I hope that you enjoy meeting all these wonderful people throughout the series.
My first guest blogger in my Christmas Gift Giving Blog Series is Jen. She has an amazing home decorating blog, lives elegantly on a budget, and everything she touches turns into a Pottery Barn or J.Crew catalog spread. I hope you enjoy her gift suggestions. Make sure to check out her amazing blog!
***
I'm Jen Migonis from Migonis Home.
I Buy Gifts For:  My husband, AJ, and I buy gifts for immediate family members and their spouses and children and our grandparents and we'll do fun little foodie gifts for our friends.
My gift-buying philosophy:  Is to buy the recipients something they love and possibly have asked for and shop early to get the best deals. I listen to things the recipient says throughout the year to get an idea of something they may want.
My favorite part of Christmas:  Is without a doubt the anticipation. Or the quietness of a morning before anyone wakes up and I have the living room to myself with the Christmas tree lights twinkling and time to read.
My favorite Christmas movie:  The Holiday. I could watch the whole thing and then start again at the beginning.
***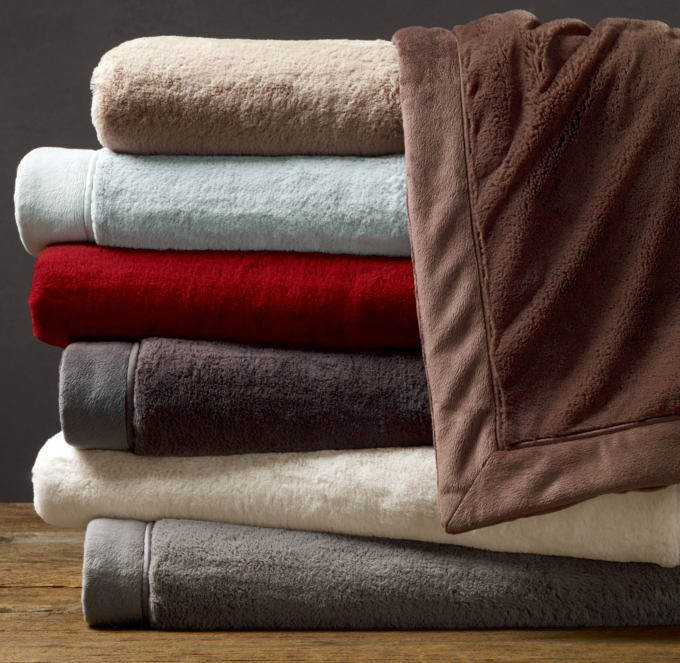 My first item is this Restoration Hardware's Luxury Plush Throw. I'm addicted to it. And, it only comes out around Christmas, and it's marked down to $39 now, which seems expensive but it washes well and I'm cuddled up in ours now. It is the softest thing you could imagine… Drew likes to rub his face in it. 🙂
Last Christmas I bought a bunch of my family members a Coach wristlet. For $27.30. Our budget for family is around $50 so this looked classy, useful and more expensive than it actually was. I've signed up for Coach's Factory emails so I can regularly save 30%. This price allowed me to pair something with the wristlet for a thoughtful gift!
I think it's tricky to know what do to with some people… and for those people I have two ideas:
Cookies all wrapped up in a special container. My personal favorite is a Pumpkin Chocolate Chip cookie. You will think you've died and gone to heaven. Here they are not in a container… although they should have been since I couldn't stop eating them.
An Amaryllis from Target. For $10 you can get the bulb and a really cute pot that looks startlingly similar to one I purchased at Pottery Barn… but of course the photo of the product isn't on the website yet (this photo was taken from Southern Living). I see them put out before Thanksgiving and they are around $10.
Okay, I know a lot of you may not like braving Black Friday, but let me tell you, I CLEAN UP. Especially in the DVD department at Wal-Mart or Target. I can often find some really fabulous DVDs for between $2 and $5 or I purchase a season of a TV show that AJ and I have just loved… "Modern Family" or "Friends", anyone? My sister and grandfather are movie people so this works well for them.
An experience…
I am giving my mom, sister and grandmother a date at Cafe Fleuri's Chocolate Bar. It's located in the gorgeous Langham Hotel in Boston's Financial District. The cost is $40 per person and we are doing this fabulous date on December 22… just in time to get some extra weight into our holiday outfits. 🙂
Lastly, the most meaningful gift…
For years I have been giving my Dad something from World Vision's Gift Giving Catalog. It is such a great opportunity to make a difference in someone's life instead of trying to make some gift "work"… and my Dad never wants anything. You can find really affordable things if your budget isn't that large!
Hope this has helped you make some good gift giving decisions! I'd love for you to stop over and see me at
Migonis Home
.
Tell me, what are your favorite gifts to give?
Jen